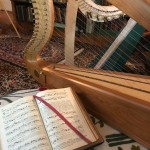 I was introduced to the harp at Green Mountain College in Poultney, Vermont, where I went to finish my music degree at the age of 35. I had attended SUNY Fredonia from 1987 to 1991 but did not finish my degree there. Fredonia was not the right choice for me, although I did study classical piano, music theory and professional studio sound recording there.
In mid-life, GMC helped me find my musical voice, the Irish wire-strung harp, gently leading me away from the church organ music studies that I was initially pursuing. I also studied other aspects of sacred music relevant to my Roman Catholic faith heritage, as well as contemporary popular music.
Today I am a member of the Episcopal Church, where I am proud and happy to support the congregation of St. Stephen's in Middlebury (where my husband George is organist) with my Irish wire-strung harp, as an occasional and welcome addition to service prelude, offertories and Communion.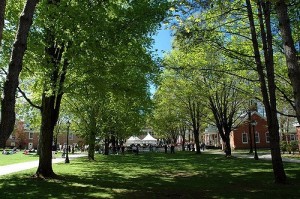 My graduating class of '07, courtesy of an unidentified Internet photographer. May 12, 2007.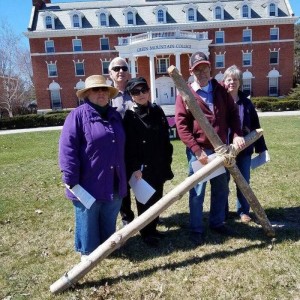 Poultney, VT United Methodist Church Christians in front of Ames Hall.
Green Mountain College's history is founded on faith:
Institutional History
The Troy Conference Academy (T.C.A.) was founded in 1834 in Poultney, Vermont, by the Troy Conference of the Methodist Church, a co-educational institution. Poultney was chosen by the school's founders as an ideal setting for learning, surrounded by green rolling hills and clean air. In 1863 the institution was purchased by John Newman and its name and focus was changed to Ripley Female College. In 1874 it was repurchased by Troy Conference and the name changed back to Troy Conference Academy. In 1932 Green Mountain Junior College joined T.C.A. on campus and the two co-existed as two distinct schools sharing dorms, classrooms and faculty. In 1936 the last Academy class graduated, and Green Mountain Junior College operated solely as a two-year institution for men and women. In 1943 the institution became a women's school and in 1957 the word "junior' was dropped from its name. In 1975 the institution became co-educational and remained so until it closed in 2019.
Source: The Christian Advocate excerpt about the Troy Conference in Vermont History research archives.
At the unfortunate closing and subsequent auction of my alma mater in 2019, my husband George Matthew successfully bid on a fine collection of GMC's Methodist history, a core volume set that was housed in Griswold Library. We are currently keeping this repository in our own personal collection, until such time as it is appropriate, to return it to Green Mountain College when it becomes an institution of faith and quiet, dignified scholarship once again.
As an alumna who found healing and a future on this sacred green space, I pray that the classy little green college in the hills of Vermont may experience the same hope, future and healing that it extended to me, when I was struggling also.
Blessings, GMC.
Sherri Matthew '07