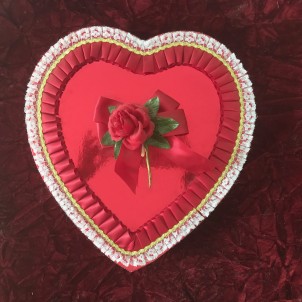 George's granddaughter Christine got married recently. Her wedding was on December 12, 2019 in Boston. Being an at-home caregiver to my elderly mom with Alzheimer's dementia, I wasn't free to travel but I could be there in spirit. And on YouTube! With my harp.
Or in this case, Jasmine's harp. For this arrangement, I discovered the softer tones of the nylon-strung "Fireside" harp by Backyard Music was perfect. I tried playing my score on both my Stoney End Esabelle and my Triplett Luna harps but felt that they were a little too bright (wire) for the sound I wanted to achieve.
I started by making a simple arrangement of "Deus Israel" (Liber Usualis 1934, p. 1288) in modern notation on staff paper. See below:
You can also download a pdf here.
Here is my original source for "Deus Israel", Solesmes version, prior to transcribing to modern notation: (source: GregoBase, Graduale Romanum, Solesmes 1961, p. 121)
My arrangement above uses a few harp arpeggios and basic chordal harmonies in the bass. Chant and this small harp do not have a wide range so I limited it to just under two octaves. I found the harp arpeggios suggest themselves at appropriate points in the chant when one is arranging it as an instrumental piece: Gregorian is modal and so there isn't a "key" as you would expect in conventional modern music. There is however, a tonal center that you can focus on, as well as starting and ending notes that help to orient you so you can find relevant harmonies that support the melody as well as transition smoothly from one ornament to the next. Sometimes this seems to entail changing the duration somewhat of a few chant notes so the arpeggios can flow gracefully in between…
Next I recorded it. (On a Mac PowerBook. My analog reel tape recording studio is still undergoing refurbishment this long winter. That's ok). I layered an improvised accompaniment over the harp arrangement with Korg WaveStation, which offered several classy MIDI sounds that complemented the little harp. Much like a picture frame can make or break a painting, it took a little while to find the right sounds to go with it.
To keep things simple I didn't notate the improvisation to this score. If I may do that in the future I would simply add it as an extra treble clef above the harp staff and present it as a keyboard and/or harp score.
Here's the completed piece, available on YouTube for your listening pleasure: