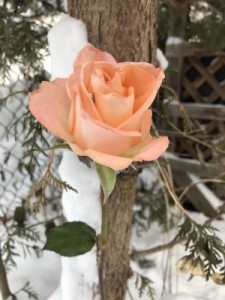 After more than six months of inactivity both here on my blog and in my studio, I'm finally in a position to start arranging, recording and posting again. My emotionally and physically exhausting daily job of caregiver to both of my elderly parents after 18 months at home with us is over; dad died last summer at age 89: a Korean War Veteran, not long after the 4th of July holidays, from end-stage heart failure. He was an electronics engineer who designed early electronic organs for Wurlitzer and serviced Moog synthesizers and studio Ampex tape decks before returning to his alma mater University at Buffalo to work as a research electronics design engineer until his retirement. I owe my interest and knowledge in professional audio and analog studio electronics to him. Thanks Dad!!
Mom left us on Easter Sunday morning, slipping away in her sleep from Alzheimer's dementia to join dad in the next world. She was 79. A life-long cat lover and animal rights advocate, mom is the number one big reason you get to read so much about Jasmine and Co. If you think I'm obsessed with cats, you didn't know mom. I did indeed have "a cat in my cradle"! There was never a time when mom didn't have a member of the felidae family as part of ours.
For both of them I was there at their final breath; VPR Classical was playing a Palestrina Mass when dad let go; I was sitting alone with mom that sunny Easter morning and quietly meditating on how eerily similar was the Thomas Tallis piece that was playing on the radio. At its conclusion I looked at her and saw she had passed. Although I verified there really was no pulse with Jake Kitty's stethoscope, my homecare aide Stacey arrived a few minutes later and confirmed it. The hospice RN came within the hour, and soon began the process of goodbyes and grief, not that I hadn't been doing this already for a long time.
For both of them I played Jasmine Kitty's harp – Donella Kitty had been sitting vigil on each of their beds right to the very end. Donella does not like the sound of a wire-strung harp – or a harpsichord for that matter – the bright metallic sound bothers her and she'll do anything to stop it. So I settled for borrowing Jasmine's softly voiced nylon strung harp when I was in the room with my parents. They didn't seem to be aware of the distinction and the two kitties didn't seem to mind.
The last few months have been a gradual reawakening; a transition back to my former life in music and art. My analog reel-to-reel recording studio has been beautifully restored to full working condition after a disastrous roof leaf some time ago, new upgrades and additions here and there to my vintage equipment layout extends its flexibility and acoustic quality.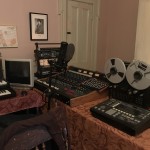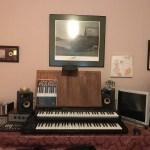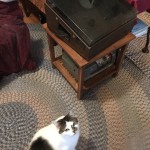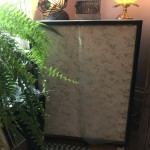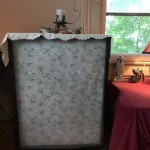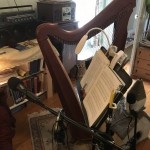 I started returning to working in music by helping husband George record a few videos for his church St. Stephen's Episcopal, Middlebury, VT, where he is organist. Due to the coronavirus pandemic, services were on hold. He decided to post some hymns appropriate to the season on his new YouTube channel (have to get a dedicated one for Jasmine!) And so I had a good time making these for him, learning some new video editing skills along the way (handy for future blog posts!)
George decided his piano wasn't up to making further videos without a proper tuning. Also the hammer felts were getting hard. Good luck getting a piano tuner to your house in the age of Covid-19! So we shelved the church videos for a bit.
In July I started work on my second commercial release, the first having been Vox Celeste (2014). Harpe Grégorienne was meant to be recorded in 2016, but I did not anticipate becoming a caregiver, with all that entailed. Now I am back to the details of planning and arranging a commercial studio album, with its matters of artwork, recording, copyrights, distribution, et al.
And sheet music. I hope to be exploring the matter of publishing harp arrangements from the album as well. Freebies of course, are always fun and downloadable pdfs of harp pieces will be here, as promised when I started this blog.
Lastly, a few updates here and there as work on Harpe Grégorienne progresses. There is a lot to explore as the project solidifies and will make for interesting blog posts!