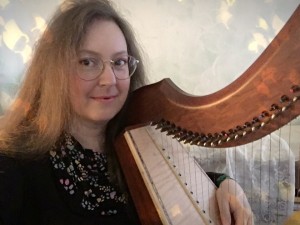 I play liturgical Irish wire-strung harp in the Episcopal Church. A large part of my work involves researching and arranging material that is intended for vocal music or other instruments, such as pipe organ, and then re-writing it specifically for wire-strung harp to be used in a church service setting. I find and record Polish and Ukrainian-language hymns and sacred music and play my arrangements as service preludes and Communion pieces in church on Sunday mornings.
George and I live with our four adopted rescue cats Jasmine, Toni, Daisy and Willow. They are ages 15 and 14.
Anyone who gets an email from me will probably wonder about my signature… who is Jasmine Kitty and why has she taken over your website? Well, originally there was just www.sherrimatthew.com. Not this WordPress blog. Eventually Jasmine came to be featured there more and more and more… because she has her very own little harp! A cardboard kit harp she received for her 10th birthday in August 2018 (MusicMakers). She enjoys safely plunking on the low tension strings as I play my wire ones, and sometimes she makes up her own little tunes. She's a very smart little tabby kitty and yes, there are YouTube videos!
On March 25, 2014 I released my first album after four years of studio recording work: Vox Celeste, an instrumental album of sacred melodies played on Irish harp over a background of lushly layered synthesizer, digitally sampled organ pipes and shimmering strings, with birdsong, water ripples and chimes woven throughout on some tracks.
I began playing the Irish wire-strung harp in 2007. I played my Triplett Luna on Vox Celeste and in February 2016 my new cross-strung wire harp was completed by Stoney End Harps. My third wire harp, a double-strung with a full set of Truitt sharping levers was completed by Dan Speer of Argent Fox Harps in November 2022.
My current harp interests include my ethnomusicologist husband George Matthew's interests in global musics from South America, Mexico, Cuba, the African nation of Nigeria, and my own ancestry of Ireland and Poland. The Irish bodhran and various Cuban percussion instruments have found their way to my recording studio!
I also like to play stuff from O'Neill's 1850 book of Irish fiddle tunes and the Dance Music of Ireland in a very jazzy style on my specially made wire cross-strung harp Esabelle, built by Stoney End Harps of Red Wing, MN in 2015.
Currently I play my harps at St. Thomas & Grace Episcopal in Brandon, VT for the Sunday morning service prelude, postlude and Communion. My Stoney End Esabelle and Triplett Luna harps are both tuned a half step lower than concert pitch standard (A 440, to prevent string breakage), so George transposes on the organ when he is accompanying me. My newest and latest harp is tuned to regular concert pitch. I also have a Paraguayan harp, which I will be writing about in later blog posts.
On Sunday, August 6th 2023 I look forward to being Confirmed by Bishop Shannon at St. Thomas & Grace! My journal to the Episcopal Church from my Roman Catholic heritage has been a long and prayerful one. I look forward with joy to being part of our Christian faith's Via Media, even as I continue to preserve and share our Gregorian chant liturgical heritage in worship services.
I'm Polish-American on my father's side and continue to pursue my Slavic language and research studies. I will post my sacred music collections here as I complete them.