Jasmine Kitty and Sherri are working on making new harp videos together!
Here's their first one, more to come...



Donella Kitty died Monday, September 14, age 16 from mammary cancer. She had done very well over the years with several surgeries and was in remission for a long time. She is greatly missed by Jake Kitty and Jazzie.

She was adopted on 1/14/2009 with Wenonah Kitty from Springfield Humane, Springfield, VT along with her mom, Isabelle.

She was the house ambassador, friendly and greeting any and all visitors to the home. No one was a stranger to Donella, who would welcome any warm lap should someone sit down for a moment or a petting.

Donella was Hospice Kitty to both of Sherri's elderly parents who died at home this past year, staying in bed with them and supervising the visiting nurses. She cuddled mom in her Alzheimer's confusion, and was a much loved favorite of Sherri's dad, sitting in his lap in his rocking chair for hours at a time until he needed to get up to go work on one of his many half-finished projects. Donella's last caregiving gig on August 7 was getting Sherri through a bad migraine, sleeping with her and purring for hours.

Upon awakening and feeling better, Sherri noticed Donella washing and licking. And discovered the belly tumor was back. Donella had surgery a few weeks ago and was happily able to explore the basement (unauthorized!) and enjoy scattered cat treats with Willow and Toni.She had a few favorite bat paw sessions with Jake who was delighted to see her back. And of course, supervising Sherri cooking fish in the kitchen!

We miss you Donella Kitty!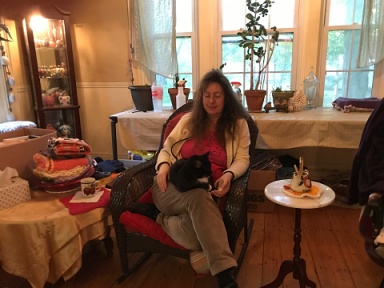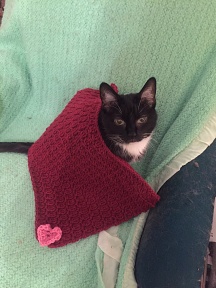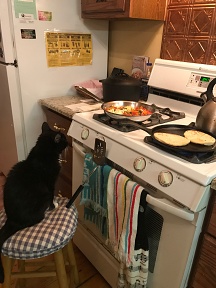 September 2020 ~ Sherri is working on her second CD Harpe Grégorienne. You can read details about it by visiting the Liturgical Harp Blog.
More news as it develops.


Also she's busy these days doing weekly videos for husband George Matthew Jr.,
organist of St. Stephen's Episcopal Church in Middlebury, VT
as they present church services online amid Vermont's lockdown to slow the spread of COVID-19.



Here is this week's video for Sunday, September 20:





Finally, Jasmine would also like her visitors to make a quick stop over to the


No Kill Advocacy Center
and find out how states across the U.S.
(and worldwide) are successfully adopting a No Kill animal sheltering strategy!