Irish wire harp appealed to me because of its beautiful shimmering bell-like tones that rang longer than any other type of harp I knew of. And also I found them easy to learn and easy to play!

I'm of Irish and Scots heritage on my mother's side and I think my grandparents would be very proud to know I play the Celtic wire harp (contemporary version). 😇


Here are some photos of my two Irish wire harps.


About Esabelle
My new Irish wire harp named Esabelle, was built in fall 2015 by Stoney End Harps of Red Wing, MN. She is a beautiful little cross-strung lap harp in walnut wood. I had her made in memory of Isabelle, my 13 year old tuxedo kitty who died of complications from diabetes on May 7, 2014.

There is a resin paw print inside the harp that was made by one of the kind supportive vet techs at Burlington Emergency Veterinary Services and a little inscription on handmade paper with pressed flowers:



"Esabelle"
Built Autumn 2015
By Stoney End Harps

In memory of

Isabelle Matthew
b. 2001 - May 7, 2014

Esabelle's strings sing for all rescue pets & diabetic kitties everywhere ~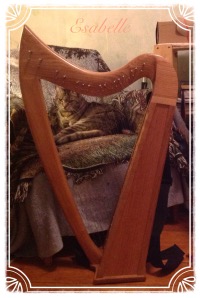 Here is a photo of my new harp with Jasmine (who loves harp!)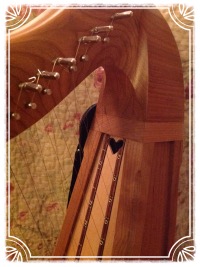 About Luna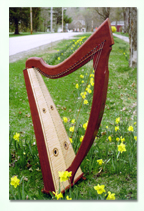 My first Irish wire harp is my 36-string Triplett Luna, built in 2009 by Triplett Harps of San Luis Obispo, CA. This harp is the reason why I totally lost interest in my pipe organ studies (which I was not really getting into anyway!) and decided I much preferred New Age music over formal concert hall stuff. I finished getting my classes done, graduated out and moved on... to this wonderful harp!


The first time I heard one of these while I was struggling with music assignments that weren't very suitable (or interesting) for me was a revelation! I had to keep going back and listening to this strange, beautiful, exotic harp at the end of the day and getting the vaguely guilty feeling I would soon be leaving one instrument for another, and it might be permanent (and a little expensive to make the switch). After graduating, surviving a miserable degree recital as a non-performer on the wrong instrument, and at least one trip to Ireland in search of harps, history and lessons, I made the commitment and had Triplett build my special harp for me. Seven years later, no regrets!


Here are some photos of my wire harp, with Jasmine in the harp chair!


Celtic knot inlay design on pillar cap
Curly maple soundboard


Toni sits with my two harps. Here you can see the size difference between a floor harp and a lap harp.




Here is a YouTube video I made; it's a memorial/awareness video I made for feline diabetes. I arranged the Gregorian Regina Caeli Laetare at sight and played a spontaneous chant improvisation on my harp for background accompaniment.