Meet our kitty family!
There are some links below their stories for adopting your own kitties, feeding, making blankets, rescue kitty charities, etc.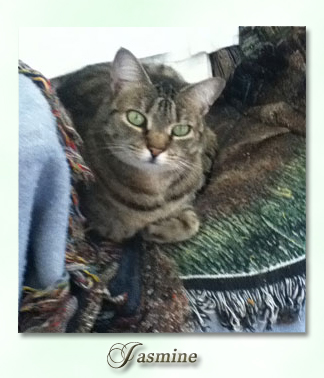 Jasmine plays harp, piano, harpsichord, boxes with rubberbands stretched across them... pretty much anything that she can pluck, poke or pull with her teeth or paws! And gets her noticed so she gets fed and petted some more. All her idea - we haven't tried to give her music lessons or anything. Visit her page to read more about her (and see her YouTube vids)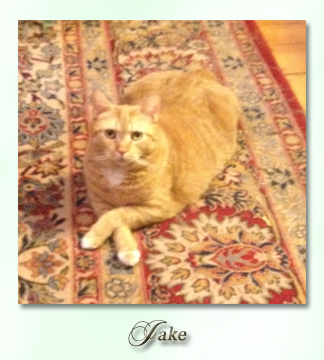 We love and miss you Jake. 7/2008 ~ 4/23/2022. Jake was Daisy and Jasmine's best friend and died of congestive heart failure. He was born with heart problems but lived to be almost 14. Jake caught 50 mice in his lifetime! We affectionately called him "Officer Jake" as he was frequently on patrol looking for mice in the kitchen and they were often arrested on his watch. A small toy NYPD police car sits next to his ashes and paw print.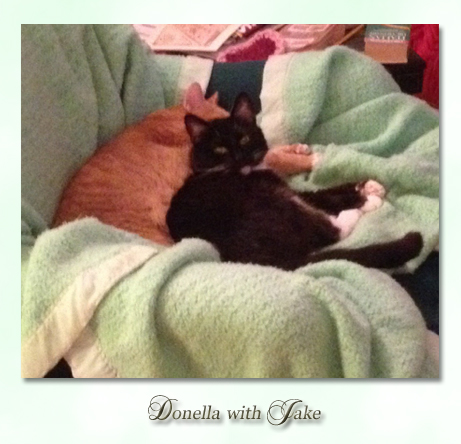 Much loved Donella kitty was our hospice kitty to both of my elderly parents, friendly and affectionate to all who visited, especially close to Jake and probably the most loving kitty we've ever had. Donella was going on 17. Her memerial can be read here.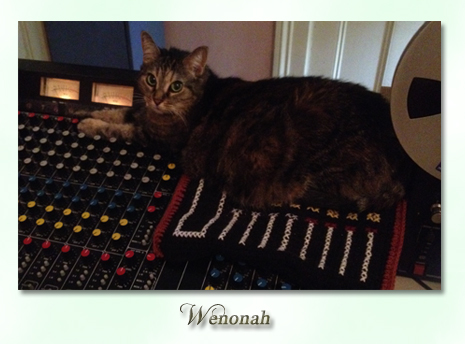 Wenonah goes to bed for the night on the recording studio's main console, where it tends to be warm. She's laying on a matching crocheted kitty blanket! (Also helps to keep the fur out of the equip.)
Update:
Wenonah was adopted from Springfield, VT Humane Society on 1/14/2009 and passed away on the evening of 12/12/2019 to sudden cardiac failure. She was 16. She is loved and greatly missed.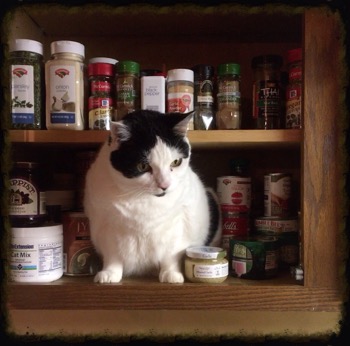 Daisy in the kitchen cupboard!

Daisy is a friendly alpha female also and rules the kitchen (she owns the island countertop). She gets along very well with Donella, who likewise commands the kitchen as if it were her own. Her favorite game is to knock something on the floor to get your attention, then purr-meow and strike an elegant pose.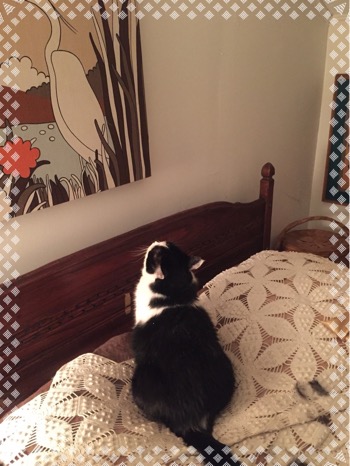 Mom Emily in the cat apartment admiring the decor.

11-year old Emily the mom kitty has a charming way of sitting and taking in the world!
Update: Emily Kitty passed away on March 20, 2020 to advanced oral squamous cell carcinoma.
She had a successful surgery to remove the tumor in January but it was aggressive and returned.
Emily Kitty was a foster in the Addison County Humane Society's Homeward Bound Foster Care program
and she and her four kittens were all adopted by Sherri's parents in March 2009.
They eventually came to live with Sherri and George in 2018 (along with mom and dad!)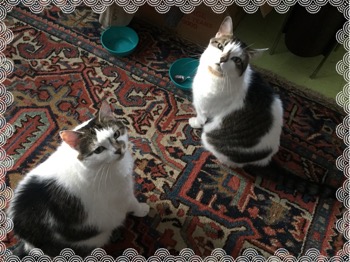 Willow and Toni right after lunch. They are really twins except for the spots on their noses.

Willow misses Wenonah.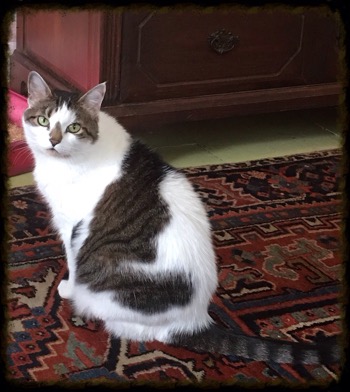 Toni. Elegant as always.

Toni has a strong, affectionate, outgoing personality. Lately she and Jasmine have become late-night friends, teaming up to pester humans for food and succeeding where one cat alone cannot! At 3 am no less...

Please visit the Kitty Memorial Page and read about Isabelle, Forest, Sidian, Little George and a special kitty in Dusseldorf, Germany, named Gary ~ Photos, videos and short stories ~