Jasmine Kitty enjoys her Fancy Feast, harps of all kinds and trying to get Sherri to move it along in the recording studio.
Some days she can be really slow... humans (!)

A special request from Jasmine to her visitors:
Could you please tell Congress to pass the CATS Act?
(HR 8867) will permanently end VA kitten experiments, paid for by US tax dollars and unnecesarily cruel and painful.
Thank you!

November 2021 ~ Sherri is working on her second CD Harpe Grégorienne (Actually to be released as a streaming video collection but we still call them CDs!). You can read details about it by visiting the Liturgical Harp Blog.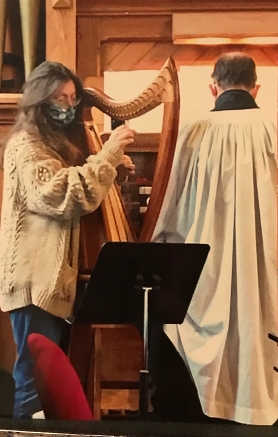 Sherri Matthew plays an improvisation on the Gregorian chant Benedicamus Domino on her Irish wire-strung harp for the offertory at St. Stephen's Episcopal Church, Middlebury, Vermont, with husband George Matthew at the 1875 Johnson tracker pipe organ.


Finally, Jasmine would also like her visitors to make a quick stop over to the


No Kill Advocacy Center
and find out how states across the U.S.
(and worldwide) are successfully adopting a No Kill animal sheltering strategy!