My pencil and colored pencil artwork for the CD's 16-page booklet insert,
to illustrate each track.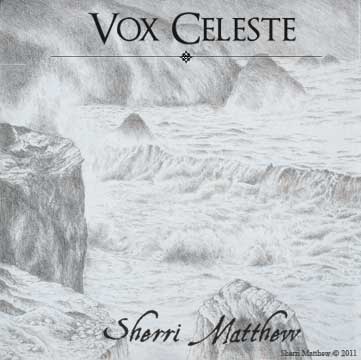 1. Ave Maris Stella
Pencil drawing of Atlantic ocean waves breaking off the west coast of Ireland. The album's first track opens with the sound of waves, flowing throughout and fades away with a few seagulls in the distance.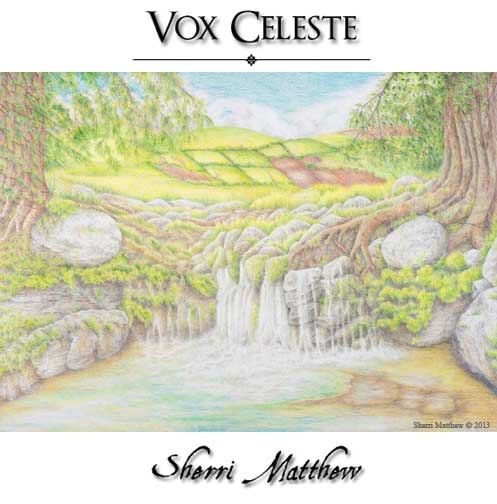 2. The Holy Well
Colored pencil drawing of a holy well in Ireland, with a little waterfall feeding it. On this second track, the Irish wire harp plays a sparkling arrangement of the Catholic Gregorian Credo or I Believe over the sound of a running stream. Holy wells in Ireland were part of healing belief for centuries.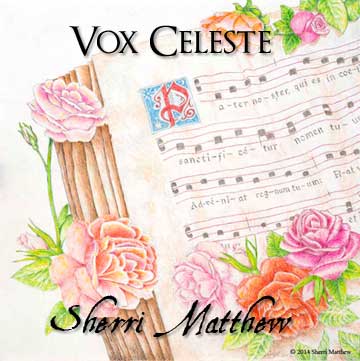 3. The Lord's Prayer
A colored pencil drawing of roses framing an illuminated manuscript of Catholic Gregorian Chant. This piece is for both The Lord's Prayer and also for the Vox Celeste album cover. It shows the medieval music notation that this album's source melodies were read from.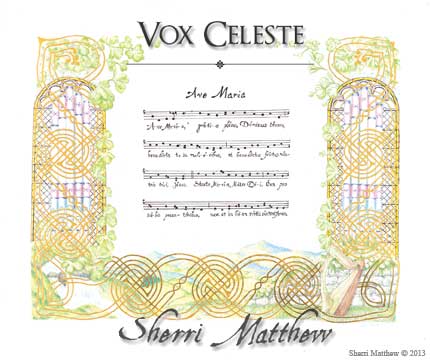 4. Ave Maria
The original melody for Ave Maria is framed by decorated organ pipes, Celtic knots and greenery, and the countryside of Ireland below with a small waterfall in the corner. On Ave Maria, the Irish wire harp rings and weaves over the soft, layered organ background.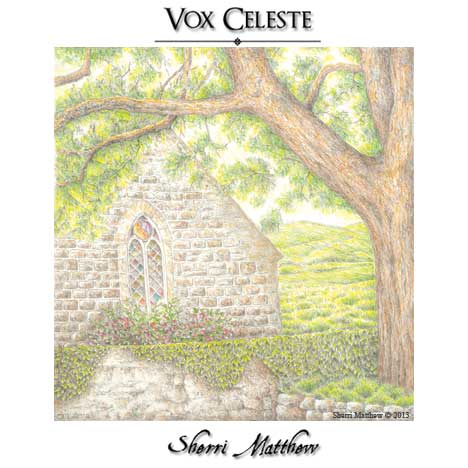 5. Salve Regina
A remote country church in Ireland, most likely with a pipe organ inside, and certainly heard on Salve Regina, romantic and full.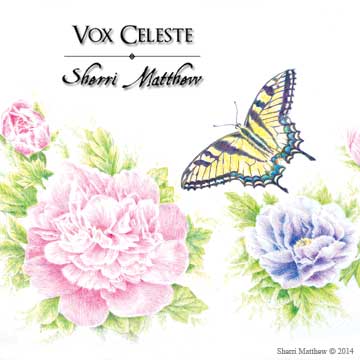 6. Ave Maria (Arcadelt)
A colored pencil drawing of a Zebra Swallowtail butterfly circling peonies. The Irish harp on Ave Maria (Arcadelt) plays over and around layered organ and synthesizer colors, showing a few colors of its own.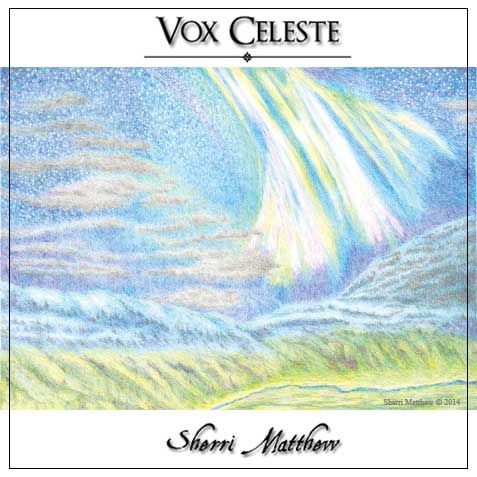 7. Veni Creator Spiritus
The Northern Lights. Reflecting as much change and color in real life as in the drawing, Veni Creator Spiritus was the first track I recorded for Vox Celeste, beginning in 2009. It underwent several revisions before arriving at its final form and was my introduction to studio recording. This colored pencil piece was completed in 2014.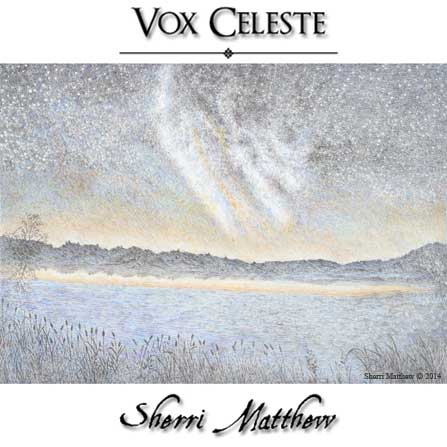 8. Creator of the Stars of Night
The Milky Way. This pencil/colored pencil piece for Creator of the Stars of Night was my first nighttime sky drawing. Its accompanying track is sparkling wire harp, with minimal background layers and just enough natural sounds from the outdoors to suggest rural dusk.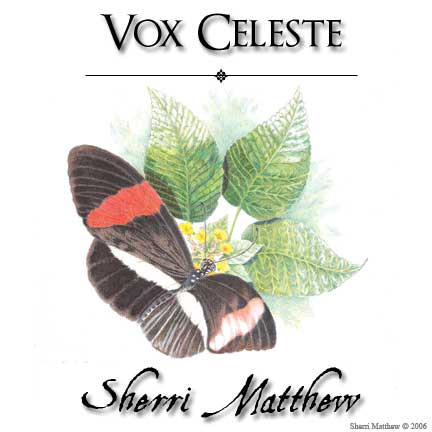 Costa Rican Postman Butterfly
This drawing of a South American butterfly is the background image for the CD tray. It was drawn from a photo taken at the Niagara Parks Butterfly Conservatory, Niagara Falls, Canada in 1998.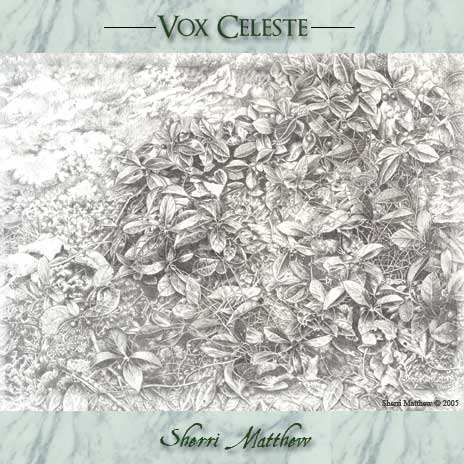 Vermont Lake Dunmore/Falls of Lana Wintergreen
Wintergreen growing among pine needles on a cliff near the Falls of Lana at Lake Dunmore in Vermont. Graphite pencil drawing for back cover of CD.

Please note that the above images are copyright protected for the web with the Vox Celeste/Sherri Matthew text overlaid on them. The versions printed in the CD booklet do not have this printed on them.